"Qr", we found 11 items.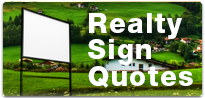 Displaying 1 - 11 from 11 items for "QR" Clear All
Independent REALTORS® signs from Lowen Sign Company
High quality Independent real estate signs by Lowen Sign Company are a proven tool for selling properties. We use technologies such as powder coated finishing on sign panels, sign riders, and sign frames and digital printing for producing outdoor-durable signs and riders. We offer signs in materials such as steel, corrugated plastic, polyethylene plastic, and bonded aluminum. For more information about our products, please call us at 800-545-5505.